Active Meaning Making, or How to Make Sure Your School Improvement Plan Is Worth Its Salt
|  by Rick Fisher, MS  |  November 7, 2023  |
At our home, fall means it is time to finally close the pool. As I reflect back on the great times we had this past summer, I also think about some of the struggles I experienced to keep the water crystal clear. The water went from clear to green, back to clear, then cloudy again.  I tried this chemical and that chemical with the same result: clear for a few days, then green again. What was missing? I didn't figure it out until I stopped trying to correct the symptoms and started looking at the underlying problem. Excessive rain was diluting the water, which was keeping every other treatment I tried from having the results I was looking for. The answer? Salt! Salt is the main ingredient to support proper chlorine levels and keep our pool crystal-clear and at its best all summer long. Lesson learned: Look past the symptoms to find the underlying issue. (And when there are problems with your pool, check the salt!)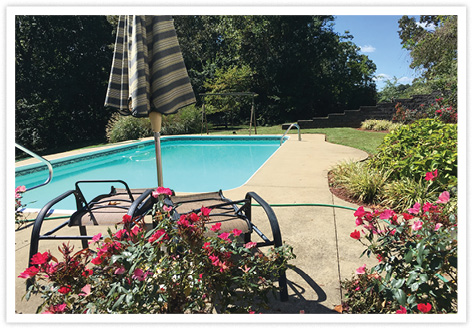 So why am I sharing this story? What can the quest for crystal clear water teach us about student learning and achievement?
For Kentucky and many other states, the end of October also means the release of state test scores—and all the rituals that come with it. We all pore over the results, analyze data from all angles, and eventually create an improvement plan aimed at raising student achievement to a higher level. This year I am reminding myself of how important it is to not overlook any element. We all see the symptoms and want to correct them, but what is the underlying reason why student achievement—and learning—isn't where we want it to be?
Moves like adding new text series, making a shift to project-based learning, or a new focus on curriculum are all fine additions to schools. However, they won't solve the underlying problems by themselves, and students will continue to struggle to learn concepts at a level we expect. Why? Like my pool, we are missing something elemental. We can't have deep learning without active meaning making. We cannot "show" or "tell" students to a higher level of understanding; that understanding has to be actively earned. 
We can't have deep learning without active meaning making.
So as we review these new test results, we need to ask ourselves: What is missing that is preventing the outcomes we want? Are opportunities for active learning and meaning making missing from our daily practice? Are we so busy searching through all the resources, spending time on new initiatives, or trying to just cover the content in the time allowed, that we have lost sight of the most powerful move to promote deep learning—helping students actively make meaning in their own minds? I'm talking about the kind of deep learning that sticks with students so well that they remember it way beyond the lesson or unit.  
As you build your improvement plans, I suggest you turn your attention to what can be achieved by the end of this school year. Focus on what's missing and what's most important to ensure all of your other efforts are successful. Prioritizing active meaning making will lead to greater retention of the content, higher student achievement, and, most important, deep learning that lasts.
At the Thoughtful Classroom, we have become one of the most trusted professional learning organizations by developing instructional tools and strategies that promote active, in-depth learning. Our work is easy to implement in classrooms, has a proven track record with both teachers and school leaders, and is now available 24/7 through our online and on-demand professional learning suites. Most important, all our work is supported by a team of instructional experts and experienced educators who have all been in the trenches, just like you. By making the commitment to the most important ingredient to deep learning—active meaning making—you will see a difference in your classrooms and on your test scores.